Beautiful prayer table cloths for your home altar, prayer table or other holy space.
These 100% cotton cloths come in a choice of circular, oval or rectangular.
Sizes: - measured as maximum width and length
Small: 12x18 inches
Small circle/square: 15x15


Medium: 18x24 inches
Medium circle/square: 21x21


Large: 24x36 inches
Large circle/square: 30x30


X-Large: 36x48 inches
X-Large circle/square: 42x42


Other sizes available upon request, please inquire!


Color:
Please specify shades in the comments box - if no shade is indicated, we use medium of each color (except purple for which we start with dark)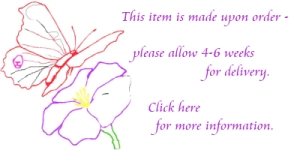 Finishing Options
Size Options
A variety of sizes are available. Would you like a custom size? Please order the size that matches the best and contact me with the details of the cloth size needed. Don't see one close enough? Contact me for a quote!
Color Options
All liturgical colors are available. If you would like two colors stitched on the reverse of one another (for example white and gold; or rose and purple), please let me know in the comments section!
Program Connections
CGS Level
These prayer table cloths can be used in all levels of the Catechesis of the Good Shepherd atrium.
Home
These prayer table cloths can be used in many areas of the home environment.
Related Products
Tags: prayer table, cloths, liturgical colors, CGS level 1, CGS level 2, CGS level 3