Miniature and doll-size stoles for use in learning the liturgical colors, vestments of the priest and perfecting control of movement skills. These are used in the Catechesis of the Good Shepherd atrium as well as can be used in schools and homes.

Both sizes are intended to be hung on 2-dimensional stands. The 2-dimensional stand represents "any" priest (versus 3-dimensional figures in the atrium which represent historical figures).
"Doll-size" stoles are approximately 24 inches long, hung over the shoulders is about 10 inches on each side.
"Miniature" stoles are approximately 32 inches tall, with a hanging height of about 14 inches.
We use a 100% cotton light-weight for each stole. The optional trimming is a gold-weave ribbon.
Special orders on the trimmings or sizes can usually be accommodated for an additional fee. Please contact me for details.

Ordering Instructions:
Please select your desired size.
Select optional gold trim (the additional fee is per stole purchased).
Select the desired colors.
Input the total quantity of stoles.
Example: doll-size --- red, green, white, purple --- "4" is input in the quantity box.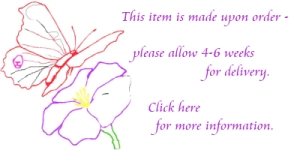 Finishing Options
Size Options
Doll-size is about 24 inches long; hanging about 10 inches Miniature is 32 inches tall; hanging about 14 inches Would you like a custom size? Please contact me!
Color Options
All liturgical colors are available. If you would like two colors stitched on the reverse of one another (for example white and gold; or rose and purple), please let me know in the comments section!
Program Connections
CGS Level
The liturgical vestments are most often used in levels 1 and 2 of the CGS atrium.
Home
These liturgical vestments can be used at home to learn about the liturgical colors and the vestments of the clergy.
Liturgical Vestments: Stoles
Related Products
Tags: liturgical colors, liturgical vestments, CGS level 1, CGS level 2